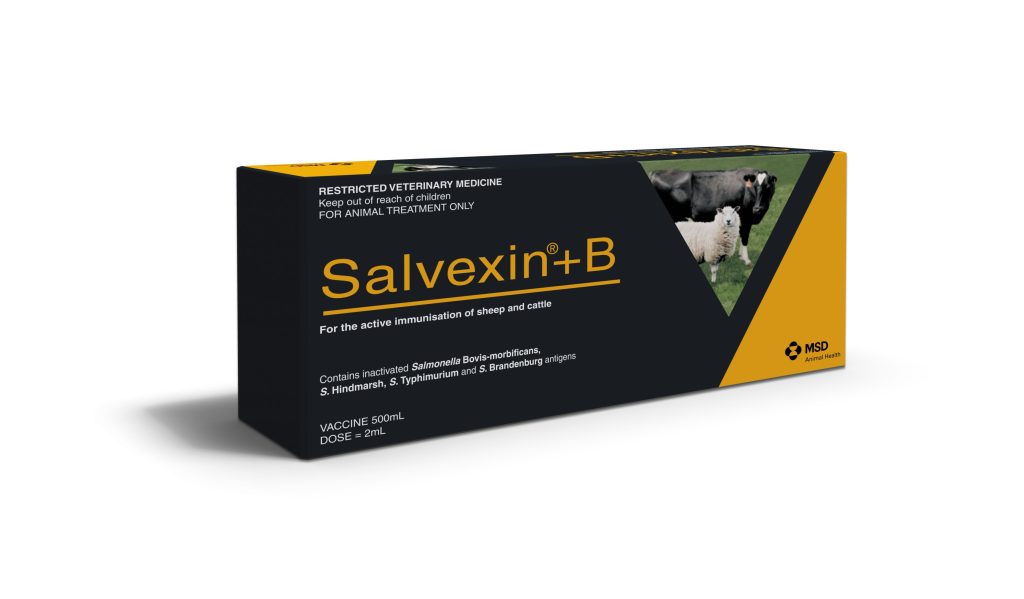 Protect against Salmonella in sheep and cattle with the Salvexin®+B vaccine. Salmonella will usually strike without warning and spread rapidly. Learn more today.
Vaccination Programme:
Preventative
Unvaccinated animals should receive 2 vaccinations at least 4 weeks apart. The second vaccination should be at least 2 to 3 weeks prior to the anticipated risk period. Thereafter animals should be boosted annually, preferably just prior to the anticipated risk period.
In areas where these is risk of both Brandenburg and Enteric Salmonellosis, a booster of Salvexin+B prior to the abortion risk period should also be considered, even if the stock have been fully vaccinated for Enteric Salmonella.
In an Outbreak Situation
A preventative programme is recommended. If an outbreak occurs in unvaccinated animals, field experience indicates that vaccination may reduce stock losses. The vaccination should be as early as possible. This strategy is NOT recommended for protection against Salmonella Brandenburg abortions in sheep
Stock type: Sheep & Cattle
SALVEXIN+B IS ONLY AVAILABLE UNDER VETERINARY AUTHORISATION.
Dose: 2mL
Initial Vaccination Programme: 2 shots
Annual Booster: Required
Administer by: Subcutaneous (SC) injection
Stock type: Sheep & Cattle
Salmonella is a significant health issue for sheep, usually striking without warning and spreading rapidly. There are two main forms of Salmonellosis seen in sheep in New Zealand:
Enteric (Gut) Salmonella (affects all stock classes)
Enteric (Gut) Salmonella is widespread on New Zealand farms. It is always present, and with the right conditions
can strike without warning with outbreaks most common in intensively managed flocks in the lead up to or over tupping. Often the first sign is death, and death rates typically range from 1-5% in affected mobs10.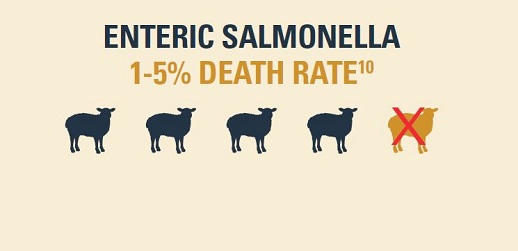 Abortions caused by Salmonella Brandenburg (affects pregnant ewes and their lambs)
Salmonella Brandenburg is widespread in the South Island and is characterised by abortions and ewe deaths in late pregnancy.
Outbreaks in sheep are common in Otago and Southland and have been reported as far north as Mid Canterbury. During an outbreak, up to 15% of pregnant ewes can abort − and up to 50% of aborting ewes can die11.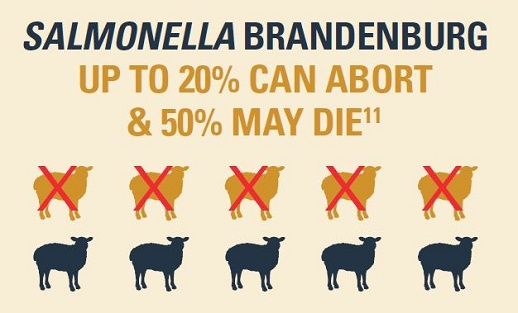 The number of animals that become infected, ill or die depends on the risk factors on farm. Reducing these risks is the first step to helping prevent an outbreak. Risk factors include:
• Yarding and transport
• High stock density and/or intensive grazing
• Stress from bad weather, stock movement, poor nutrition, etc
• Low flock immunity from lack of vaccination and reduced exposure to the disease
• Birds and scavengers
If a disease outbreak occurs, consult your vet as soon as possible as different approaches are recommended depending on the situation. To avoid the potential losses associated with salmonella disease, set up a preventative vaccination programme with Salvexin®+B, New Zealand's only salmonella vaccine for sheep and cattle.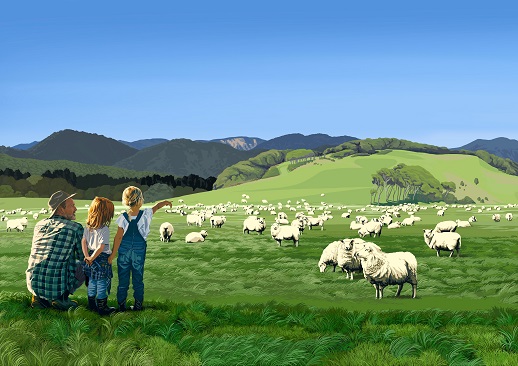 Benefits of vaccination with Salvexin+B:
Increases immunity against Enteric Salmonellosis
May reduce stock losses in an outbreak of enteric salmonella#
Has been found to reduce abortion and ewe deaths from S.Brandenburg12
When challenge is high, protection may be overcome but effects are not likely to be as severe.12

# not recommended in the face of an outbreak caused by S. Brandenburg
Salmonellosis is over three times more prevalent than in 201313
Salmonella is a significant disease of cattle and sheep. Usually striking without warning and spreading rapidly, the effects of Salmonella are devastating.
A well thought out plan on how to treat and prevent Salmonella is critically important.
Frequently Asked Questions
| | |
| --- | --- |
| What is Salvexin®+B and what does it protect against? | Salvexin®+B is New Zealand's only Salmonella vaccine for sheep and cattle. It's designed to protect livestock from four strains of Salmonella bacteria: S. Hindmarsh, S. Typhimurium, S. Bovismorbificans & S. Brandenburg. Salmonella is spread by healthy carrier animals which don't show signs of disease, but shed bacteria (usually intermittently or at low levels). |
| How is Salvexin®+B administered and how often? | Salvexin®+B is administered through subcutaneous injection. For unvaccinated animals, the initial vaccination programme involves two doses administered 4-8 weeks apart. The second vaccination should be given 2-3 weeks before the anticipated risk period. After the initial vaccination, an annual booster is recommended, preferably just prior to the anticipated risk period. |
| What are the benefits of vaccination with Salvexin®+B? | Vaccination with Salvexin®+B is a proactive approach to managing Salmonella infections in your livestock. It increases immunity against Enteric Salmonellosis and can potentially reduce stock losses in the face of an outbreak. While not recommended in the face of an outbreak caused by Salmonella Brandenburg, it has been found to reduce abortion and ewe deaths from this strain when used preventatively. |
| Can I purchase Salvexin®+B without a veterinary prescription? | No, Salvexin®+B is only available under veterinary authorisation. It's crucial to consult with your veterinarian for the appropriate use of this vaccine to protect your livestock effectively against Salmonella. |
| What are the symptoms of Salmonellosis in sheep and cattle? | Salmonellosis often strikes without warning. Visual signs of the disease depend upon the strain of Salmonella but may include scouring, abortions in pregnant stock or death. In sheep, Enteric Salmonella can cause death rates of 1-5% in affected groups, while Salmonella Brandenburg can cause up to 15% of pregnant ewes to abort, and up to 50% of aborting ewes can die. In cattle, symptoms can range from mild to severe, and can include fever, loss of appetite, diarrhoea, and in severe cases, death. |
| What are some risk factors for Salmonellosis on farms? | Risk factors include yarding and transport, high stock density and/or intensive grazing, stress from bad weather, stock movement, poor nutrition, low flock immunity due to lack of vaccination and reduced exposure to the disease, and presence of birds and scavengers. |
| What should I do in the event of a Salmonellosis outbreak on my farm? | If an outbreak occurs, consult your vet as soon as possible. Vaccination with Salvexin®+B may help reduce stock losses if administered as early as possible. However, this strategy is not recommended for protection against Salmonella Brandenburg in the face of an abortion storm. | We also recommend looking at these products
---